Banbury Postiche Team
Global players in the hair loss industry
Banbury Postiche are global players in the hair loss industry and boast a team of local wig-making specialists, some who have been with us for up to 40 years. Our team, headed by director Nick Allen, are recognised around the world as masters of their trade, each and every member is dedicated to their role in supplying hair to hair loss clients, offering expert advice to local customers as well as being passionate about the incredible support that we offer to theatrical companies.
Eva Proudman
Real Hair Specialist Consultant
Eva Proudman
Real Hair Specialist Consultant
Eva is a highly sought after hair specialist and trichologist with over 15 years experience working in her field, her knowledge about hair is unquestionable! She diagnoses the causes of hair fall, breakage, thinning, diseases of the scalp and offers both industry professional and consumers, specialist advice on the most appropriate solutions.
Eva is recognised across the UK as the industry's most-wanted hair-guru and is regularly approached to assist large corporations with research and development. Eva's work is varied and, regardless of whether she is working in R&D, with her local clients who are faced with hair and scalp issues or if she is offering specialist advice to media, she is completely dedicated to educating and advising on every aspect of hair, hair loss and trichology.
Eva delivers the only recognised training course in the UK for those who want to provide hair loss services via their hairdressing business. Through a variety of academic facts, strong case studies
and by sharing her own experiences, Eva helps professionals to introduce a successful hair loss clinic into their business and ensure that any potential clients will receive the best possible advice and service.
Eva has vast experience in sourcing human hair and is in charge of ensuring that our European Hair supply is maintained with our trusted network of suppliers, and that all of our hair is ethically sourced.
Eva Proudman has also developed and written our NVQ Level 2 Introduction to Wig Making Course and can often be found delivering modules to our students, or delivering enrichment days to NVQ Level 3 students in the many hairdressing colleges around the country.
Eva has a natural empathy with hair loss and is always seeking out knowledge to help and assist our clients as well as to develop her team.
Hobbies: Parrot Training, cycling, cooking
Favourite Food: Anything cooked by her Son, who is a chef.
Star Sign: Aquarius
LORRAYNE CARLESS
Wig Consultant and Hair Preparer
Lorrayne has been with Banbury Postiche for 20+years and now works in our Hair Room as an expert Hair Preparer. For the past 2 years Lorrayne has worked under the guidance of Jenny and Debbie who have been hand preparing human hair for more than a combined total of 50 years, there isn't anything that we cannot colour or pattern match to, providing that we can source the all important raw hair.
Lorrayne also works as a wig consultant, bringing her experience into the fitting rooms and really relating to the importance of matching hair to the clients' exact requirements.
Hobbies: Sewing and Interior Design
Favourite Food: Anything!
Star Sign: Leo
Sue Jarvis
Wig Consultant and Headwear Designer
Sue has been designing for the fashion industry since the tender age of just 16, having qualified as a seamstress and bridal wear designer, we were lucky enough to tempt her to our team over 9 years ago. Sue designs and makes a fantastic range of headwear, keeping pace with the current catwalk trends and colours to suit every season.
Sue has also been trained to be one of our wig consultants and works in fitting both real hair custom made wigs as well as acrylic wigs. If you have a special occasion and need headwear making for it, Sue does offer a fantastic custom made service.
Hobbies: Music and walking
Favourite Food: Italian
Star Sign: Aries
JULIE HERBERT
Senior Custom Made Wig Hairdressing Specialist
Julie has been hairdressing for over 33 years, she is a true specialist in the work that she carries out specifically for custom made real hair wigs, both her cutting and colouring skills are truly outstanding and offer a fantastic finish to suit your individual requirements. Julie is always in demand and has many clients who request that she is their hairdresser.
Julie also offers a service to trim and care for the clients own hair. Julie has been with the team at Banbury Postiche for 9 years and also offers our Postiche Lite hair volumiser and integration product as well as offering our Rapture Hair Extensions, there is just no end to the magic of Julie's hairdressing.
Hobbies: Shopping, walking and travel
Favourite Food: Indian
Star Sign: Virgo
RACHEL WILTSHIRE
Custom Made Wig Hairdressing Specialist
Rachel Wiltshire has been hairdressing for many years and is passionate about all things hair. We have trained Rachel to work with our custom made real hair wigs, as well as our full acrylic range. Rachel is happy to trim your own hair and will also colour it as well. Customer feedback for Rachel is always really positive with everyone loving her approach and attention to detail.
Rachel offers our Postiche Lite Hair Volumiser and Rapture Hair Extensions and is always available for a consultation.
Hobbies: Pilates, Meditation and Crystals
Favourite Food: Greek
Star Sign: Pisces
Recent News from Banbury Postiche
Learn from the top leaders in the hair industry.
Are you worried about your hair or scalp? Concerned about thinning or shedding hair? If you answer yes to any of the above, it is important that you visit a trichologist as soon as possible. But first of all it would be useful to fill in our Professional Trichologist...
Eva Proudman, one of the UK's leading Hair Loss Specialists and Trichologists, hosted a "Christmas Wishes" Campaign in collaboration with Alopecia UK to help raise awareness of the effects of Alopecia within the hairdressing industry. The event was held at...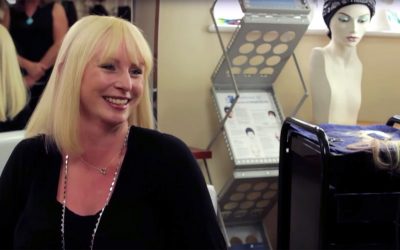 "It is the best thing I have done for a long while. Everyone was amazed by the difference… It was a real transformation."
Don't Be Shy. Get In Touch.
Any questions you have for the team, send us an inquiry and we will get back to you as soon as we can!